The Rise and Fall of a Family Farm
Cornfalfa Farms, located in northwestern New Berlin, was well known for its three principle products; alfalfa, apples, and Asiatic sheep. The land has long been converted to subdivisions and parkland, but the legacy of the Swartz family lives on in the extensive photographic collection and other items donated to the society by the late Peter Lewis Swartz, the fourth and last generation of Swartz to farm the property.
Many of these photos were taken by his father, Peter Charles, who, along with brother Jayson, were principally responsible for adopting advanced farming techniques and bringing the farm to prominence around the turn of the century. Peter Charles shared his knowledge by lecturing at farm organization meetings. He converted some of his photos to lantern slides for use in these talks.
In addition to the photographs, the Society has a diary kept by Peter Morgan Swartz (1842-1919), Peter Lewis's grandfather. This and other 2D artifacts will help tell the Cornfalfa Farms and Swartz family story. The Society also intends to develop a display in the old fire station, now New Berlin Historical Museum, at New Berlin's Historical Park that highlights Cornfalfa Farms.
Below is a 1983 article written for the former New Berlin Citizen by New Berlin Historical Society's historian, Libbie Notlan, which provides an overview of this important New Berlin enterprize.In this article, Libbie refers to lantern slides Peter C. Swartz used in his talks to various farmer groups. These slides have been digitized and may be viewed here.
Farming operations captured on film by Peter C. include alfalfa production, orchard operations, sheep raising, grain harvesting, and potato farming. A more unusual sequence shows how the Swartz removed rocks from some very stoney fields, crushed them using a steam powered rock crusher, and spread the crushed rock on local roads. Pictures presented in an order that Peter C. might have used in a presentation may be viewed by clicking on the links below.
Alfalfa Production
Grain Harvest
Road Building
Apple Production
White and Black Sheep
Additional images will be posted in the near future.
---
Alfalfa Seeded in County History
By Libbie Nolan
New Berlin Citizen
August 18, 1983
One of the last significant reminders of Cornfalfa Farms' greatness has been given to the New Berlin Historical Society.
Last month Peter Lewis Swartz presented the society with the original 68 year old leaf of alfalfa and the certificate which named the farm's owners international champion alfalfa growers. Back in 1915 New Berlin's Cornfalfa Farms' entry won the grand award at the Panama Pacific Exposition in San Francisco.
Visitors to the museum during a monthly open house will see the tall glass-enclosed specimen and framed certificate in the upstairs of Winston-Sprengel House. The museum and buildings are located at 19765 National Ave.
Now a member of the historical society's board, Peter Lewis is a great-grandson of pioneer William Swartz who immigrated to America from Bavaria in 1837 and settled at the west edge of New Berlin in 1844. Born at Cornfalfa Farms, Peter grew up in the latter part of his family farms' heyday.
Almost a decade before he was born, his family's reputation as alfalfa-growing champs had been established. However, the farm's renown for two other activities came about in his own lifetime.
Known internationally as producers of "The Three A's, Alfalfa, Apples and Asiatic Sheep," Cornfalfa Farms fluctuated in size over the decades. Great Grandfather William's original 80 wilderness acre had expanded to an eventual 527 acres in Grandfather Peter Morgan Swartz's time.
Besides the original homestead, Cornfalfa Farms included part of what is now Minooka Park, part of the present Illing place on Gutherie Rd., the present Surinak farm on Observatory Rd., the old Butcher place on Racine Ave. across from the German Reformed Church and the Phillips place west of the church.
Corn and alfalfa were the major crops when the farm's name was registered.
Peter Lewis's grandfather, Peter Morgan Swartz, born in Ghent, N. Y., had come to Wisconsin territory with his parents as a little boy. He married New Berlin-born Catharine Phillips and fathered five sons and two daughters, all of whom had a part in the farm's development. All attended Carroll College and one became a school principal.
Peter M won prizes at the Wisconsin State Fair for his Shropshire sheep and black Percheron horses in the early years. later he brought home diplomas and medals for his early red Calwson winter wheat shown at the 1893 Chicago World's Fair and the 1894 St. Louis Exposition.
At the end of Peter M.'s era, he divided his farm acreage among the seven children. Peter Charles and his brother, Jayson, inherited the family homestead with all its buildings and rented some of their brothers' and sisters' acreage, which they eventually bought.
That's where the two brothers continued to develop their remarkable farm.
Acquiring their first Karakul breeding stock in the 1920s, they developed a flock of black sheep that went on to win international awards for the finest Persian lamb fur; and they shipped breeding stock to foreign lands. Swartz Brothers called their grazing sheep "power lawn mowers that manufacture fur out of grass."
About the same time "Pete" and "Jay" also set out their first major apple orchards. By 1938 they were harvesting over 10,000 bushels of apples from their 7,200 young trees growing on some 100 acres along both sides of Racine Ave. Swartz apples were shipped all over the United States.
Before that and at the same time, the Swartzes continued experimenting with alfalfa, sharing their findings with the University of Wisconsin agricultural professors. By 1913 the Swartzes were raising 172 acres of alfalfa and averaging five tons per acre with three cuttings. Peter C. was then president of the Waukesha County 0rder of Wisconsin Agricultural Experiment Association.
Alfalfa (what Europeans called Lucerne and the English called purple medic) is a very deep-rooted leguminous forage plant with fine leaves and blue-purple pea-like blossom-heads, used mainly for hay. Probably the oldest of all cultivated hay plants, alfalfa was used in the Persian invasion of Greece in 590 B.C. when advance workers planted fields to feed the herds of invading armies.
Centuries later, alfalfa was brought to the New World by the Spaniards and via South America to California during the Gold Rush. Gradually it moved east to the Atlantic. When the Swartzes discovered its qualities, they experimented to perfect the best plant for Wisconsin climate and soils.
In 1927 a Reedsburg (Wis.) newspaper wrote: "Swartz Brothers are more than farmers. They're investigators and experimenters of a high order. The university has received big dividends for what it gave 'Peter C.' at the short course 20 years ago."
"Swartz Brothers discovered alfalfa plants that tend to seed heavily under Wisconsin conditions and discovered the reason why those plants seed. The university has taken seed from those plants for study under laboratory methods and with the aim of selecting purebred pedigreed alfalfa which may well be named 'The Swartz Alfalfa'".
Swartzes shipped their first carload of baled alfalfa from Waukesha County to Chicago in 1912. The Danish government in 1925 purchased Cornfalfa Farms' alfalfa seed for its experimental plots, which would be known as Cornfalfa Alfalfa, the local paper said.
Peter C. soon became active statewide as a lecturer for the University of Wisconsin's Farmers' Institutes. His main focus was raising alfalfa.
In the 1920s, Wisconsin farm magazines and newspapers dubbed Peter Swartz as "Alfalfa King of Wisconsin." The Buffalo County Republican called him "The Orchard and Alfalfa Wizard of Wisconsin." At each institute where progressive dirt farmers gathered in winter to learn more about their profession, Peter explained and demonstrated every way he could the merits of alfalfa-growing. He had documented with photos and written data all of his and his brother's experiments and results.
With these, Peter used a projection lantern to explain the steps in growing alfalfa.
At Birnamwood he told farmers "Prepare the seed bed as carefully as a garden, use a roller or planker to even the field for sowing. Sow 18 pounds of inoculated seed per acre and add lime to the soil. When you harvest, use a side delivery rake to handle the hay gently."
At Belmont, Lafayette County, he discussed "Alfalfa for Hay and Sweet Clover for Pastures," using 150 of his slides with a lantern projector. "Both alfalfa and sweet clover are soil builders," he said calling attention to the nitrogen-rich deep roots of both.
"Plant alfalfa to stop erosion of Wisconsin's hills," he said to Rusk County farmers.
At Oconto he said: "It's far cheaper to buy soil feeds like lime and phosphate than it is to go to the market and pay out hard earned money for cow feed.
"One ton of alfalfa is worth more than an acre of oats. Less acres of oats and more acres of alfalfa should be the 1927 slogan for Oconto County farmers," he said.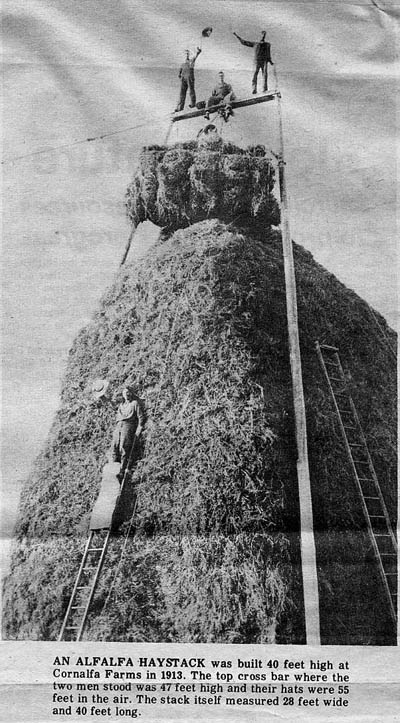 Swartz said alfalfa might be cut three times a season but advised against third late autumn cutting so that the plants might winter over better and survive at least five years. He said the first spring cutting is coarse and should be used for hay; the second cutting should be for seed and used to plant more acreage each year.
Peter's son Peter Lewis recalls those days vividly, how he learned to drive the hay wagon pulling the hay loader. "It was a trick to keep the wagon tongue on center of the windrow so the hay would come up the loader. At haying time my uncles all came home to help.
"We went from horses and wagons to trucks to bring the hay up to: the barns. I hated to go up in the barn where it was empty. Uncle Jay was the only one who had nerve enough to climb up the 40-foot ladder to the track in an empty mow.
"We put the first crop in the stack, it was more coarse; and put the second cutting in the barn. It was better feed and we got more money for the second and third crops," Peter Lewis recalls.
"Our local markets included Brookhill, Keystone and Wern Farms in Waukesha County. It was about the 1950s when we shipped our hay in loaded railroad boxcars from Waukesha to the eastern states during a drought.
"Over 100 cars went east that year loaded with 20 to 30 tons to a car," Peter L. said. In the community Peter's father, Peter Charles was a director of the state Horticultural Society, member of the Wisconsin Experimental Association, Farm Bureau Officer, sponsor of the Southeast Wisconsin Fruitgrowers Association, a school official and church trustee.
After his parents' and uncles' deaths, Peter discontinued farming and sold the acreage for residential development in the 1960s. Now homes and families inhabit the old Swartz Orchards and a few straggling alfalfa plants may still be seen at hedge edges.
Folks who were children in the 1920s, when the Farm Bureau picnics were held at Cornfalfa Farms (just after the second alfalfa cutting) remember when their dads looked forward to seeing the latest in farm equipment at Swartzes' place each summer. Hundreds gathered to learn the newest methods of farming and the latest in gateless cattle gates.